my girl went back to school today. i am so thankful! though it was nice to spend so much one on one time with her, mama needs a break! so, we start a new week. hopefully this one will be normal.
my boys were in their preschool's annual harvest festival last week. wilbur, last year, didn't sing a peep. didn't smile. didn't acknowledge us much. i think he was overwhelmed with all the people and the loud singing of all of the other children. i wondered if orville would be that way this year for his harvest festival debut. he wasn't, not at all. both boys were all smiles and sang every word of every song. too precious. and amelia got to be there too, since she was home from school. she got to bring her camera along and really enjoyed watching her brothers.
amelia waiting for the big show to start.
amelia's idea of what the boys costumes will look like.
wilbur making his debut as a scarecrow.
orville making his debut as a carrot. he sort of got lost in the crowd.
orville showing off his carrot costume.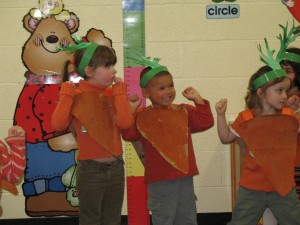 orville showing off his muscles after his teacher said, "show us strong carrots."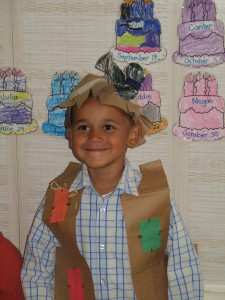 wilbur showing off his scarecrow costume.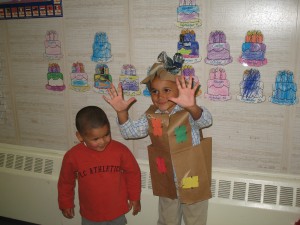 wilbur trying to scare us…
he's too cute to make that happen.
off to the grocery store. then out to lunch with my good friend and her two boys. maybe we'll take some pictures!