after school at the smith's
last week we brought you 8am at the smith's.  this week i thought we'd switch it up a little by bringing you after school.  the following took place thursday the 29th.  it was pajama day at the boys preschool.  this is a fun day for the kids, but i don't like the idea of them sitting around school in their pajamas and shoes.  pajamas getting dirty just doesn't seem right.  the boys put on clean pajamas before school and then had baths and clean pajamas before bed.  here's what they looked like before we left for school that afternoon.  cute and goofy as usual, with wilbur being especially goofy.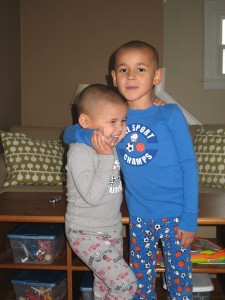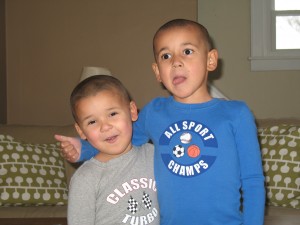 and now for the after school part.  the following took place between 3:45 and 4:15pm. orville came home in real pants, not pajama pants.  he had a potty accident at school.  of course i had to take his picture.  he didn't want me to.  so he told me he couldn't smile. he insisted his smile just wouldn't come out.
i see it hiding in there at little.  notice he has his arms crossed too.
wilbur wanted in on the picture taking action so he posed with larry boy.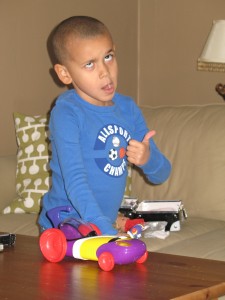 amelia wanted in too so she chose to show off her fancy fingernails.  she loves this multicolor look.  i supposed it's okay, for a 7 year old.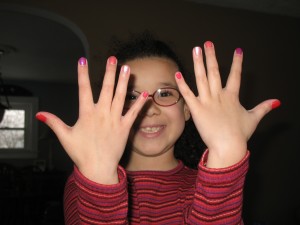 and who could go without doing the upside down fingernail shot?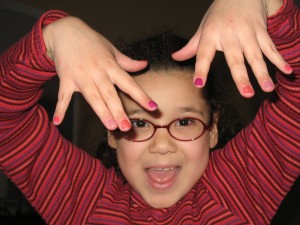 finally, orville's obsession with my feet continues.  he had out his legos, put three lego guy heads together, put a helmet on them, and proceeded to "check" my feet.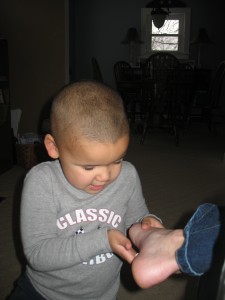 nothin' like some foot lovin'.  if this kid doesn't become a podiatrist, i'll die from shock.