wilbur-do babies have teeth?
me-no. they start with no teeth and then God makes their teeth grow as they grow bigger.
wilbur-how do they eat if they don't have teeth?
me-well, the food gets mashed up for them. like, if you take a banana and smoosh it all up, a baby could eat that.
wilbur-but a baby can't mash a banana.
me-no, their mom and dad can do that for them.
wilbur-did you do that for me when i was a baby?
me-(aching-inside my heart) no. i didn't have you when you were a baby.
wilbur-well, where was i?
me-you were at mommy _______'s house.
wilbur-how did she know how to feed me?
me-someone told her.
wilbur-did she feed amelia that way too?
me-yes.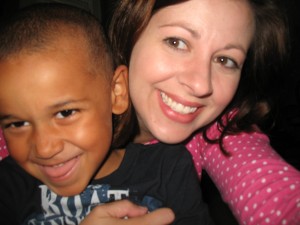 oh, the incredible ache of not knowing them then. the incredible ache of not holding them, feeding them, meeting those such basic human needs. the incredible ache of having to say, "no, it wasn't me. i wasn't there." the incredible ache of the void that leaves for them. the void they don't understand yet, but someday will. i know my children came to me at just the right time. i don't question that at all. i know i wasn't supposed to know them when they were born, before they had teeth, when they needed to eat mashed up bananas.
but, i really wish i did.
and it's an ache that my heart will hold. likely for always.