i love crayons.  especially new ones.  especially crayola ones.  i asked for some for Christmas,  from my sister-in-law art teacher.  she liked my choice of gifts.  she bought them for me.  the 120 count box.  remember when 64 count was the biggest?  
because i love my crayons, i want them to be taken care of.  i will not share them.  not with my husband.  not with my children.  i explained this to the kids when i opened my crayons on Christmas.  "these are mommy's crayons.  they are for mommy only.  you have your crayons.  you use your crayons. you cannot use my crayons.  ever."
last night i sat down with my crayons.  i dumped them, gently, on the table.  i picked a picture out of a coloring book.  i started to color.  it was fun!  
we have a rule for the kids that they can't dump crayons all over the table.  their crayons are in a basket and they can reach in and get out the color they need, then put it back.  before the kids went up to get ready for bed, they saw my "mess" of crayons.  josh said, "do you know what you're teaching the kids?"  thinking we were going to hear about how it's not fair that mom can make a mess and the kids can't, wilbur chimed in,  "you're teaching us we don't have to share." 
yeah.
yikes.
my test paper.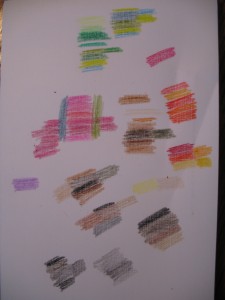 my finished product.
my favorite part, the stockings.
colors used:
for the holly and holly berries: pine green, maroon
for the stockings:  wild blue yonder, olive green, blush
for the mantel and fireplace surround: beaver
for the hearth and firebox: antique brass
for the logs: sepia and desert sand
for the fire: brick red, sunset orange, macaroni and cheese
for the log grate: gray
for the dog: desert sand and mauvelous
for the rug: wild blue yonder, olive green, blush
for the gift: wild blue yonder, olive green, wisteria