does anyone know how hard this is?
oh, i know some of you who read do.  but the people around me, the people directly around me, my family and friends-they have no idea.  i've been reading  twenty things adopted kids wish their adoptive parents knew by sherrie eldridge and it's putting into words things i feel, things my kids feel.  it's giving me insight into their minds, into their hearts.  it's helping me understand things they are unable to verbally express.  i have heard mixed reviews of this book, some people like it, some people don't.  if you've read it, i'd love your opinion.  anyway, somethings really jumped out at me after wilbur's break down last week.  here are a few:
-"unlike other losses we have come to expect in a lifetime, such as death and divorce, adoption is more pervasive, less socially recognized, and more profound." –being adopted:  the lifelong search for self by dr. david brodzinsky & dr. marshall schechter
-"grief is the natural response to loss, and those touched by adoption must be given permission to revisit emotionally the place of loss, feel the pain, scream the anger, cry the tears, and then allow themselves to be loved by others." -twenty things adopted kids wish their adoptive parents knew by sherrie eldridge
-"we must be careful not to sanitize sentimentalize, or even glamorize the pain of adoption;  it really is miserable stuff, and it is intensely personal.  it is interior.  the pain of adoption is not something that happens to a person;  it is the person.  because the pain is so primal, it is virtually impossible to describe." –the spirit of open adoption by james gritter
did you see that?  "the pain of adoption is not something that happens to a person;  it is the person."  this isn't something my wilbur is feeling.  this is my wilbur.  this is his life.  and today we met another family that understands that.  another mom and dad who adopted a sibling group of three.  a daughter, and two sons, just like us.  and the kids are the same ages, the boys being just a couple months apart from our boys.  we met for lunch at mcdonald's. i know, so lovely.  but we thought it would be a good place because the kids could play and parents could talk.  and we did.  and i feel like we could talk a lot more.  so we will.  isn't God amazing!?!?
we haven't had a picture update in a long time.  mainly because we haven't updated in a long time.  so here's a picture update, picking up where we left off from feb. 5th, orville's 4th birthday.
i was helper in wilbur's class.  we made patterns and had 50's day, complete with a sock hop.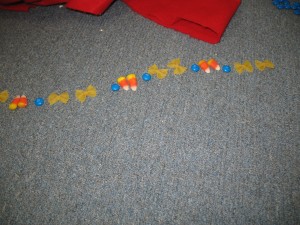 amelia and i had mother daughter night at church.  of course no pictures were taken of the two of us.
we celebrated orville's birthday with family and friends.
he received a substantial amount of clothing from grammy.
and the orderly little guy that he is, he felt he needed to immediately take his new clothes to the laundry basket in his room.  right in the middle of his party, he just marched right up the stairs.  it was too cute!
i was helper in amelia's class for her valentine's day party.
josh took the garland down from the porch and used it to pretend to be a monster.  it was pretty funny.
we finally got to play outside.  my nephew joined us.
i was helper in orville's class again.  grammy joined us.
the boys and i had a special day out.  wendy's for lunch, then a park for playing and riding bikes.
amelia and i had a very special night out at secret keeper girl.
amelia had a hearing test at children's hospital after failing the school hearing test twice.  she's just fine, but can't hear very faint sounds.
orville and josh had daddies night at pre-school.
i was greeted one morning by the kids doing yoga.  so hilarious!
josh and amelia had a daddy daughter date.  chuck e. cheese and taco bell.  all amelia's choosing.
we went to columbus to visit our very dear friends.
during our stay we took a trip to the columbus zoo.  very nice.  very big.
orville fell asleep on the way home from the zoo.  then everyone had some much needed down time.  including the dads who fell asleep.
just friday, the kids, my mom and i, went to the cleveland children's museum to have a fun time on our last day of spring break.  the special feature right now at the museum is a room filled with tons, literally, of sand.  we went back in january of '07 too.  the kids have changed so much since then!