i've been absent for a long time.  again, there's plenty to write about, plenty of pictures to share.  but i've been in kind of a dark place for the past couple of months.  i seem to have a dark cloud hanging over my head.  as i put it in an email to a friend, " i feel like i am in a pit and life is just passing over me and i am missing it. things i thought would be fun, aren't. things i thought would bring me joy, don't."
i think i know why i have been feeling this way.  actually, i don't think i know, i do know. and i know i need to do something about it.  and i know what to do.  but i keep forgetting.  and then it gets dark again.  but right now i am remembering.  all of that to say, this heart is full of words that need to come out.  and they will come.  but tonight i wanted to take some time to be thankful.   for this man,
who in lieu of sleeping in, got up just like any other day, to celebrate his day, with his children.  and with his sleepy eyes and bedhead hair,  he graced our breakfast table with his presence for some dunkin donuts, coffee, and the children's father's day cards.
amelia made him the biggeset card i've ever seen.  and it was cute.  and silly. and made no sense.  but it was so precious, because it was from her.  from her heart, for her father.
wilbur wanted nothing to do with making a card.  i guess that's a boy thing?  so he picked this one.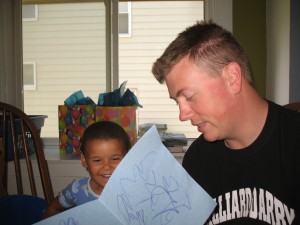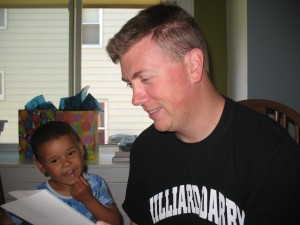 orville didn't want to make a card either, at least not while we were at the store and wilbur was picking out already made cards.  but when we got home, he changed his tune and joined the crafting with amelia.  so for daddy, he had two cards.
then we went on a hike.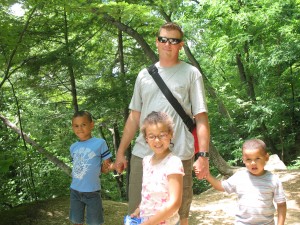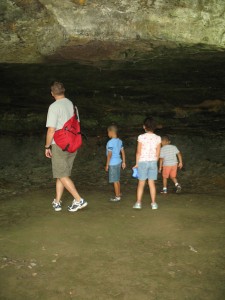 we got sweaty, muddy, hot, tired.  the kids loved it.  and i think josh had a good time, though it was more work with three little ones than either of us would have liked.
we had a cookout at my sister's place where we also got to visit with my dad.  then we went on to church where the kids made more father's day cards.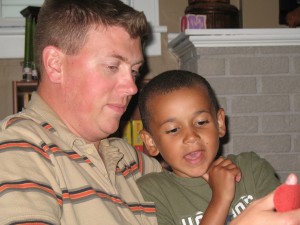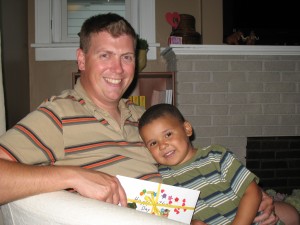 we are so blessed to have this man in our lives.  he is committed to our marriage and to our family.  he has such a strong desire to be a good father.  and he is.  and i am thankful.