amelia started feeling sick monday night. she felt warm, didn't have much of an appetite, so we gave her some tylenol before bed. tuesday morning she woke up dizzy with a temp of 103.3. more tylenol. resting on the couch all day. and watching little girl movies, mary poppins and ariel's beginning. her fever broke mid-day and was down to 99.2. then before bed, it shot back up to 102.3. she also developed a cough and stuffy nose. this morning her temp was 102.9 and she couldn't stop coughing. i called the doctor. the doctor found nothing but a stuffy nose and a temp of 100. they suggested a decongestant, tylenol, and rest. but, what about the EEG?
talking with a friend yesterday, i wondered why this sickness came at this time. tuesday i was supposed to have lunch with josh. today i was supposed to have lunch with another friend and then watch the boys in a program at their school. tomorrow the EEG. and life as usual. "maybe God doesn't want her to have the EEG on thursday," my friend offered. "oh, maybe He doesn't. maybe thursday isn't the right time," i said. why? hey, i don't know. most of the time what He does in beyond me. that's why He's God. right?
maybe He wanted me to have some alone time with amelia. she's such a joy when the boys aren't around. i think because it's not as loud and there's no one else for me to have to share my time with. and maybe He wanted me to have something to do today because while i was taking amelia to the doctors, my friend that i was to have lunch with was getting induced a week before her baby is due. and maybe, well, who knows.
i called the neurologist's office. they transferred me to an EEG tech. she said even if the fever is gone, and the stomach is fine, the coughing and stuffy nose will make it hard for amelia to rest and even fall asleep, to have the testing done. on top of that, she'll need to be sleep deprived, but she needs to sleep so she can get better. i will call in a bit to reschedule the EEG, and i'll let you know when it is. thank you so much for your prayers and well wishes.
here is ameila forcing a smile before bed monday night. yes, those are m&m's on her plate. i let her have some halloween candy, even though her tummy hurt a little.
now for the explanation of the title of this post. amelia was with me yesterday when i picked the boys up from school. the teacher wilbur has for pre-k is the same one amelia had. she is the teacher who was with amelia when she had her first full seizure two years ago. she knows our family, and our story well. so when i picked wilbur up, this teacher just looked horrified.
me-"oh, he didn't behave well did he?"
teacher-"no."
me-"oh no, he didn't?"
teacher-"oh, no wait, he was fine. but i think he told me something that maybe he wasn't supposed to tell me?"
me-"what?"
teacher-"that amelia had a seizure."
me-"no, oh my. no, she didn't. she woke up with a fever."
then i remembered that in the morning he was asking me what sissy had. "a seizure? a theater?" "no buddy, a fever. sissy has a fever. "
here are the kids with our favorite teacher on amelia's last day of pre-k(may 2007).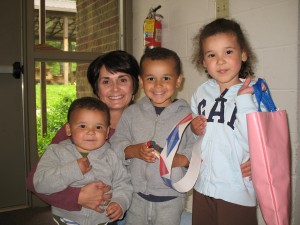 and finally, the boys had a trip to the dentist monday. wilbur has been before, but this was orville's first time. wilbur went first and was so big and brave. he did such a great job! his great behavior showed his brother there was nothing to be afraid of. then orville did a great job too. he had a scared look on his face most of the time, but not a tear was shed.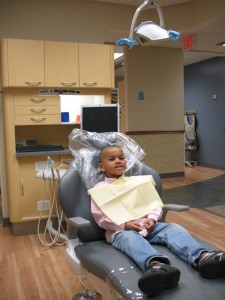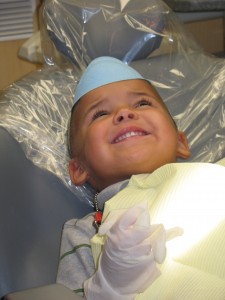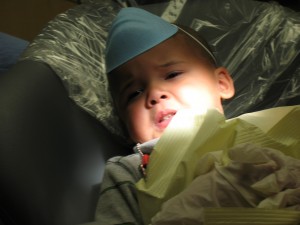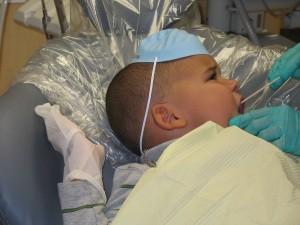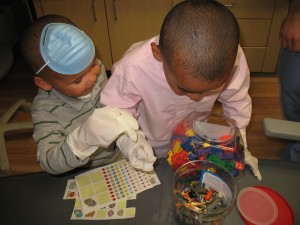 they got to pick some treats when they were finished. and they made their mama proud. they also made me think that maybe we're doing a pretty good job. maybe they had good behavior because we're teaching them too. and maybe they weren't scared because we've made them feel secure. just a thought.