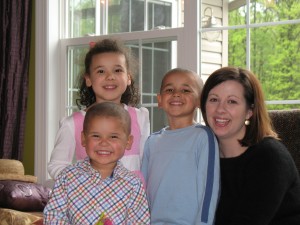 we had a great day today, sharing my 3rd mother's day with our children and josh's family. josh and his dad, my brother-in-law and his wife, all took care of lunch. my mother-in-law and i got to sit and relax and look at magazines. thanks everyone!!
got great gifts from the kids, handmade at school of course. i'll post those photos later. great gift from josh too, a new creative memories album i wanted to use to make a scrapbook of just our family. the album is just an adorable shade of green which happens to be my favorite color.
also, had a great night last night with my sister and my mom. we went to a fernando ortega and sara groves concert. have i ever mentioned i really like sara groves? just wondering.
and finally, just in case you're interested, here's what was happening two years ago today.