2009.  wow!  my kids came home in 2006.  i can't believe it will be three years in just a few months.  this year has flown by.  here's how we ended 2008.
the thursday before Christmas was french tea day for wilbur's pre-k class.  the kids spent a few weeks learning how to count in french, say the days of the week, colors, and various Christmas related words.  they also learned a few new Christmas songs.
grammy and i had the privilege of attending the tea.  wilbur did great!  sang along, talked along(when they recited their words), built a great eiffel tower out of cookies with grammy, was excited that santa came.  that is until it got closer to his turn to sit on santa's lap.  i don't know why he cried.
a few weeks ago, when we saw santa at the bowling alley, wilbur wasn't scared at all.  this day was a different story though.  oh the poor little guy.  so many tears.  a quivering lip.  i joined him on his visit.  i re-asked the questions santa asked him so that good old santa would get an answer.  after santa was gone, wilbur was back to normal, even posing with his gift in front of the eiffel tower background they had.
after the tea we picked up orville from his 3's class.   he told us he saw santa.  and he didn't cry.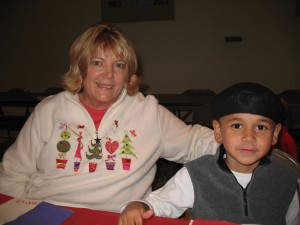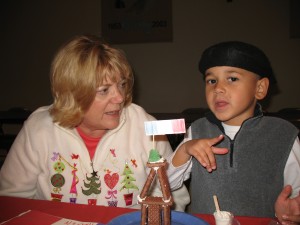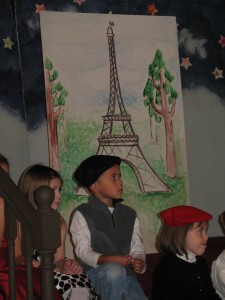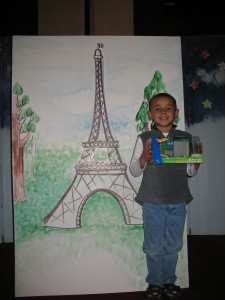 wilbur loves to wear button down shirts.  he affectionately calls them 'man shirts'.  because they make him look like a man of course.  he was very excited when josh drew a picture of him in one of his 'man shirts'.
amelia, who i might start calling little mommy, very much enjoyed getting to hold the newest baby in our circle of family and friends, pamela joy. it took a few tries to get her in amelia's arms just right.  and a pillow to prop her up. but we did it.
we finally decorated our Christmas tree.  it was up for at least two weeks and only had 3 or 4 decorations.  poor thing.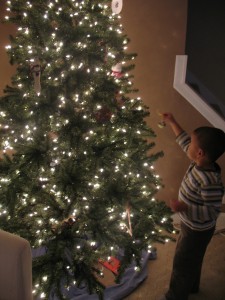 after decorating, we had our very dear friends, the blitzer's, over for dinner.  scott and alyssa are so good with the kids and the kids just adore them.
they brought the kids a present too.  i love how excited amelia is in this picture.  thanks for the game guys!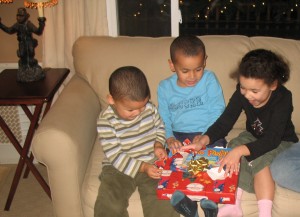 amelia got her glasses.  here she is in her first official glasses picture.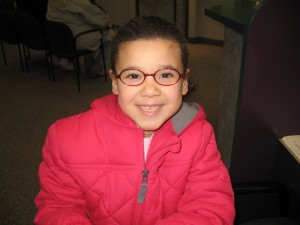 first picture in her glasses with her brothers.
first ride in the van with glasses.
first time watching TV with glasses.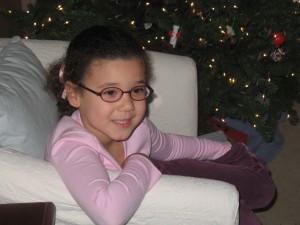 she's just so adorable!
Christmas eve was different for us this year.  busy, but fun.  we had dinner at my sister's, then went to church, then had our families here for dessert.  my mother-in-law is hoping this is a new tradition.  she even bought me a beautiful platter, creamer, and sugar set to help.  we'll see what happens.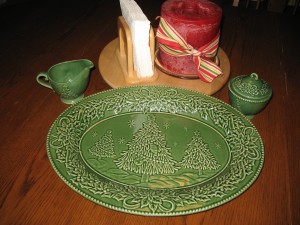 my nephew william.  he just had to sit in amelia's booster.  wilbur's was available but just not good enough.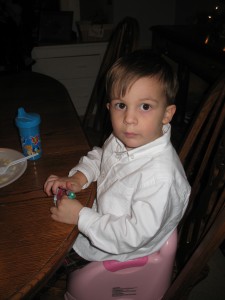 uncle nate playing wheelbarrow with wilbur and orville.
little mommy watching over 4 month old cousin winston.  and taking his picture.
wilbur and grammy discussing the possible arrival of santa overnight.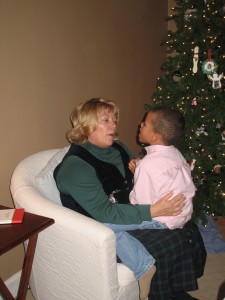 the tree before santa came.
the tree after santa came.  wilbur was the first one downstairs and was quick to start checking out who the packages were for.
wilbur showing amelia the gifts.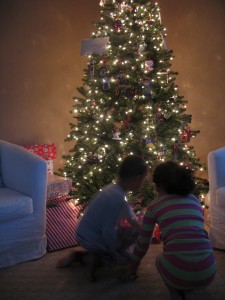 josh and the kids reading the Christmas story.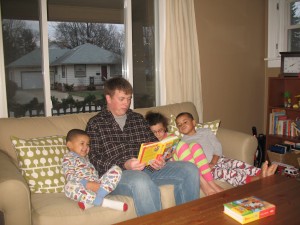 stocking time.
present time.
amelia's favorite gift-her leapster.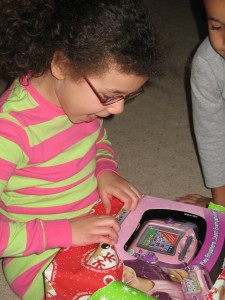 josh got a new coffee maker.  he was very excited.  and very surprised.  
josh and our gift from amelia.
orville and i, with his gift to us.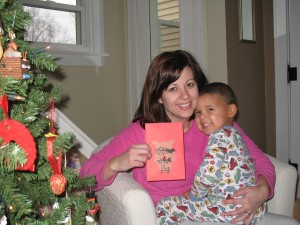 i made the story of how our family came together into a book.  i got a copy for each of the kids.  i was excited to give them to them.  they were excited to receive them.
after our family time at home, we headed to grammy and gramps' house.  we spent most of the day there, joining them for lunch and dinner.  
grammy and amelia reading together.
me trying to relax.
but not having very much luck.
stocking time at grammy's!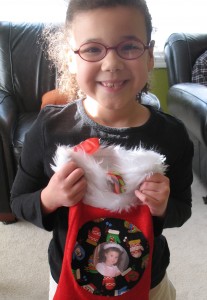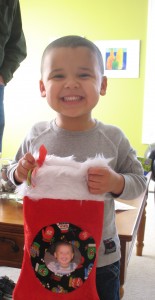 the day after Christmas, we stayed home all day.  i stayed in jammies all day.  and my sister and her boys came over.  i snapped this shot of winston right before he sneezed.  i love it!
saturday, some of my extended family came over for dessert and some playtime with the kids.  some of them hadn't met the kids yet. it was really nice to have everyone here.  hope we can do it again!
my cousin rick and orville.
my cousin megan and her son kyle.
my cousin erin's boyfriend jake and our dog shelby.
my cousin megan's husband larry, wilbur, and larry boy.  wilbur and orville were really hoping that larry would be larry boy from veggitales.  sadly, he's not a cucumber.  but he did say the kids could call him larry boy.
cousin rick and all three kids.
Sunday was our Christmas celebration with my side of the family.  here are all the grandkids, minus winston, with my brother ryan and his girlfriend heather.
little mommy and cousin winston.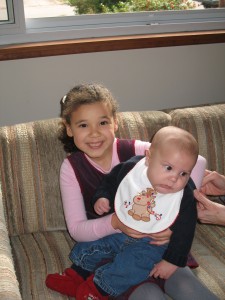 wilbur and winston.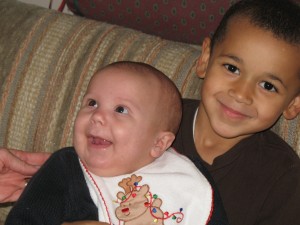 orville and winston.
grandma ahern, my mom's mom.  she's 91 now.  this was her first time meeting the kids.  she recently moved back from california.
wilbur and a wrapping paper hat that josh had been wearing.  in this picture he's grumpy.  not sure why, but he wasn't in the best mood.
in this picture he's a little happier.  i told him he had to be.  we were celebrating Christmas and had no room for bad moods.  
possibly my favorite gift-a starbucks cup ornament from my mom.  it makes me happy.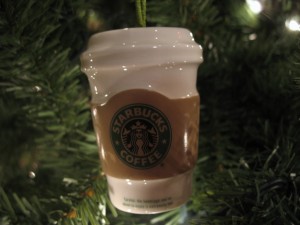 uncle peter liked his new shirt from us.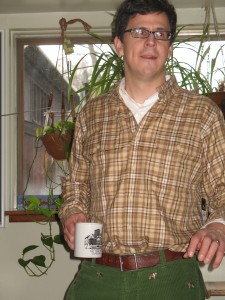 a rare shot of william with josh.  will is generally scared of his uncle because josh is really goofy.
amelia and nana reading.
amelia spending time with her leapster.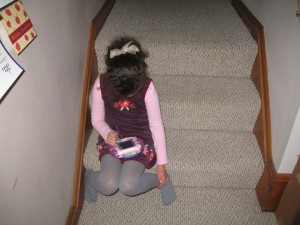 the kids showing off one of our gifts from nana and papa.  they donated a sheep, in our name, to an impoverished family.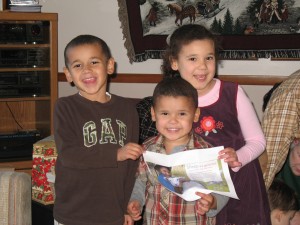 last night, new years eve, we stayed in.  had chinese take out for dinner.  and weren't impressed with the new years eve TV shows.  tonight, to celebrate the first day of the new year, we had dinner out with my sister and her family.
my sister.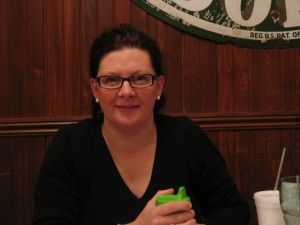 william.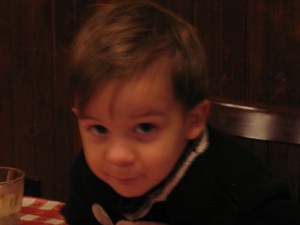 peter and winston.
josh.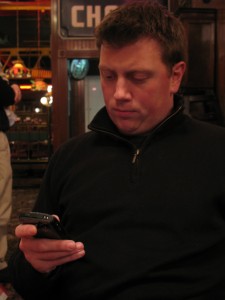 wilbur and amelia.
orville.
and because i missed saying it on Christmas, Merry Christmas, from our family.