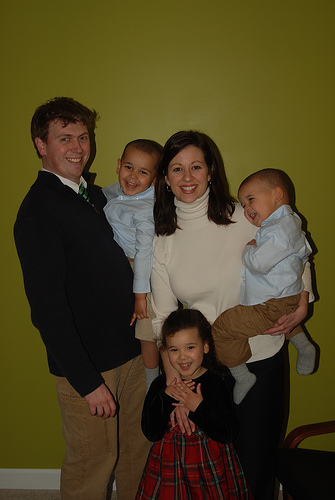 we are a forever family!(we have been in our hearts since the day we met, but now it is government declared!)
last monday we went to court and the judge granted our adoption petitions! what an amazing and emotionally overwhelming experience! it was such a beautiful time of sharing with our family and friends, and the court, what it means to us to be parents to our children. we still in so many ways can't believe how God's plan for our lives has played out. and even when i replay the timeline in my head, i am still in awe. oh, adoption. the joy! i wish everyone could experience it in some way, shape, or form.
is it easy? no. well, in some ways. each situation is different. would i recommend three children at once? no. well, maybe if you are crazy like us. or if God is clearly revealing that's what He wants you to do. and like us, if what He wants is what you want.
is it hard? no. well, in some ways. each situation is different. but the hard times are easily replaced by the good. and by the love. the love that you feel that you can't even describe. it is essentially like loving a stranger, but a stranger that you can't imagine your life without. and how exciting that someday my kids will be all i've ever known, even though in the beginning i didn't know them at all.
our best friends put it this way. and what a perfect, beautiful way it is. thanks j & h!
life together
just us, we learned, we worked, we loved.
God had given us so much
and our time as one taught us about how we should live.
we prayed and asked for more,
we wanted a family.
patience, grace, and misunderstanding became the new lessons.
but we waited and continued to pray.
our miracle was on its way.
for them life was different, but the same.
they waited, wondered, and watched as God put love into their lives.
it might not have been clear, but there was a plan.
two separate lives spiraling toward one another.
the three and the two would become one.
one family.
it is not hard to look back now and see,
but there was a time when questions saw no answers.
His timing and His grace brought more than our request.
the one we had wanted soon became a beautiful and perfect
three.
as small, medium, and large, all made a wondrous fit.
now we move on into the rest of our time here on earth
and we thank God
for our new and flawless
life together.
after court we enjoyed time together with family and friends eating and celebrating at josh's parents house. thanks so much mom & dad!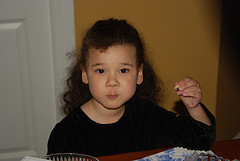 amelia on court day, enjoying peanuts at our celebration at grammy & gramps' house
wilbur in papa's glasses at our celebration
orville at court with his gavel pencil