it is a gorgeous night here in north east ohio. there is a great breeze moving through the house. there is one load of clothes in the dryer. one in the washer. the dishwasher is full, but the dishes are clean and dry. the sink is empty. i am showered. my three children are sleeping. and it's only 9:20pm.
i just wrote about not having time to blog and now i have plenty. we had a good day today, not that we have had any bad ones. but today was very good. we went to the park. my aunt shannon visited. we played in the backyard as a family.
it will be a month this saturday since the kids moved in. one month. wow. and i think i have already learned some valuable lessons.
1. this isn't easy.
in fact, it's very hard. i didn't expect it to be easy, and now i realize i really didn't know what to expect. i am tired all of the time. my mother-in-law says this will last until all of the kids have moved out. well, i only have to wait for 17 more years to feel rested. no problem. and in being tired, i get frustrated easily. especially in the morning. juggling three kids and a dog and three baby gates and a husband leaving for work and dishes and laundry, etc., can be very frustrating. i think i am getting better with this. i know i am. that's partly why we had such a good day today.
2. getting out of the house is a very good thing.
even if we only make it to the backyard for 20 minutes, it's something. we all need a change of pace, a little break from the norm. our new swingset from josh's aunt and uncle has helped a great deal. our local park a block and a half away has helped a great deal. yesterday we left the house just to drive to the post office to mail one letter and drop off one bill. after a little driving around i turned a 15 minute trip into an hour. and i loved it!
3. take advantage of free things.
our local park has a free program for kids ages 3-6 every tuesday and thursday morning for an hour. they do crafts, story time, singing, dancing. then we stay and play for another half an hour before heading home for lunch. our park also has a free wading pool that is open all day every day all summer long. you better believe we'll be there, probably multiple times a week. and every tuesday night, josh plays soccer in our church league. it's not free, but the soccer clinic for kids is. our daughter has been enjoying this time very much. the boys and i love to watch daddy and sis play.
4. take time for yourself, and your spouse if you are married.
josh and i haven't had a hard time maintaining our relationship, but we can do better. we are going on a date tomorrow night. a young marrieds social at our church. josh's parents are baby-sitting. i asked josh's mom if she'd consider trying to put the kids to bed if the social goes until past bed time. she assumed they would put them to bed and josh and i could go out on our own after the social. a real date! she suggested we go to barnes & noble, which we love to do. i wondered if maybe we should just drive to barnes & noble and make out in the parking lot for awhile. (sorry if that is offensive)
5. recognize what you have in your spouse.
i could never do this alone. i repeat, i could NEVER do this alone. i can't wait for josh to get home at night to help me out with the kids. but more than that, i can't wait to see him with the kids. he's so good at it. he's so silly and playful and father-like. in a good father kind of way. the way my dad was. he meant business, but he was like a giant monkey. and josh doesn't mind changing diapers or switching laundry or eating leftovers. and he hasn't complained on days when he comes home and i look frumpy.
6. recognize what you have in your children.
a gift beyond any that i can comprehend. the only thing harder for me to grasp is the death and resurrection of my Savior Jesus for someone like me. there are moments that i look at my children and i am in complete awe of their beauty. they are so gentle and sweet and funny and cute. three bundles of joy all rolled into one sibling group. and they are taking to us so quickly. we really are mommy and daddy to them. they are looking up to us, copying us, picking out what they like that we do and wanting us to do it again. they get excited to see us and sad when we leave them. even if i run out to the van for something, they stand eagerly awaiting my return. and there is such a loud, joyous shout when josh pulls in the driveway at the end of the day. "daddy, daddy!", they yell.
7. don't wish your time away.
though things are hard at times, and things will get easier as the kids age, i don't want my time with my kids to pass too quickly. the baby is already 16 months old. next year he'll be so much different, so much more independent. there are days that he just wants held so much, even if he's just fine. i get frustrated, and then i remind myself that someday he won't want to be held anymore. and, he wants me to hold him. i was a complete stranger to him a couple of months ago, but i am the only mom he'll ever know. whoa.
it's now 9:50pm. i could go to bed early tonight if i wanted. but, i don't. i am not much of a TV buff, but i think i might veg out for awhile with a snack and the television. and i need to fold the laundry, and empty the dishwasher.
still not ready to post the kids faces, but here are some other shots.
earplugs from my aunt shannon.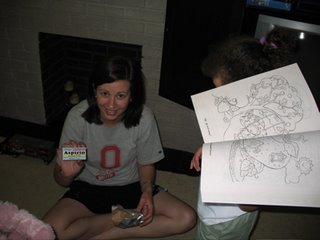 aspirin from my aunt shannon. and our daughter's new coloring book, also from aunt shannon.
she sleeps. our daughter has fallen asleep on the couch two times since she moved in. she took a rest on the couch every day at her foster home, but i haven't asked her to do that yet. so the times she has rested and fallen asleep on her own have been kind of special.
playing in the backyard with daddy.
our baby watching daddy play soccer.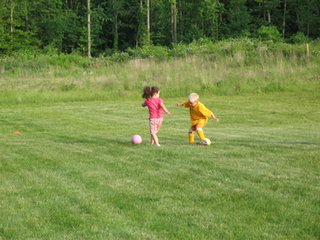 our daughter at her soccer clinic. she's the one in the pink.
our daughter and middle son at the park program.
oh yeah, and mommy got a new toy today. the green one, in honor of gitgan green.