in the car the other day we were singing a song the kids learned in their children's choir.
"i've been redeemed
by the blood of the Lamb
i'm goin' to the Promised Land
all my sins are washed away
i've been redeemed"
amelia asks, "what's redeemed by the blood of the Lamb mean anyway?" josh and i fumbled with our words, trying to answer such a profound question in a way a child could understand. finally, we just came up with something pretty simple which is all you need to do anyway, with a child or an adult. "well," we said. "it means that Jesus is sometimes called the Lamb of God and when He died on the cross, He took all your sin with Him." she's heard this before, but i think the word redeemed threw her off. she gladly accepted our answer and kept on singing. wilbur chimed in, "yeah, well, even, Jesus had a beard."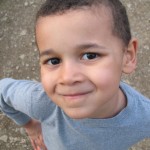 then yesterday, wilbur, amelia, and i were having a discussion about their birth parents and their foster home. amelia remembers a lot of what has gone on, but wilbur doesn't remember much. he was asking about when he was a baby. he wondered why he can't remember being teeny tiny. i told him not many people do. he asked if he went on walks in a stroller and i assured him he probably did. i asked if he remembered his birth mom. he did. i asked if he remembered his birth father. he did not. after a few more questions, and a few more answers, amelia chimes in, "yeah, well i know all about frogs."
are my children brilliant or what?!?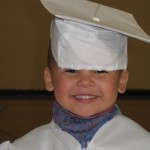 and last night, our little guy graduated from his one day a week preschool. he's not a know it all yet. probably will be next year, when he turns 4.