well, not exactly sure how to feel about the results of the EEG.  i spoke with a nurse from our neurologists office yesterday.  she shared that the results were 'normal'.  i thought that would mean the epilepsy is gone.  but it doesn't.  it means that the epileptic activity wasn't there during the test.  it could have been there before the test.  it could have been there after.  it could be there right now.  there's no way to know.
because it didn't show up during the test, we are supposed to wean amelia from her meds.  she takes 4mL total, every day.  2mL in the AM, 2mL in the PM.  the plan is to remove 1mL at a time, for two weeks at a time.  the whole process should take 7 weeks.  then, no more meds.
she could still have epilepsy.
she could start to have seizures again.
this scares me.  makes me want to freeze time and stay right where i am.  she's safe from her seizures here.
but i can't freeze.  the Lord is calling me to move forward.  He's telling me to trust Him.  and because the future of amelia's epilepsy is uncertain, i have to trust Him more to move forward, than i do right now.  and that's what He wants from me.
"trust in the Lord with all your heart, lean not on your own understanding.  in all your ways acknowledge Him and He will make your paths straight."  proverbs 3:5&6
we had a beautiful day today, my little girl and i.  we spent the afternoon at church for a service project for the girls program she's in there.  it was a busy time, making placemats and encouragement cards for people at our local homeless shelter, and making ornaments for the angel tree dinner our church is hosting.  her pictures on the placemats weren't so lovely.  her words on the cards were misspelled.  but her heart was so big and sincere.  i am so glad that at such a young age she's learning about those less fortunate.  and she's learning how to share Christ's love with them.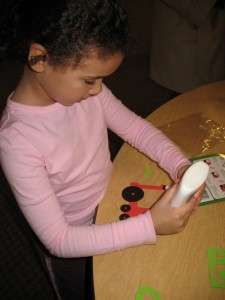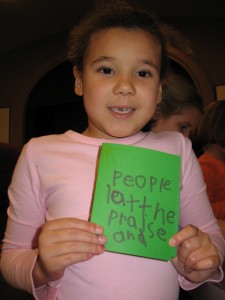 read like this: let the people praise and…