we're here right now. it's hot and sunny and windy.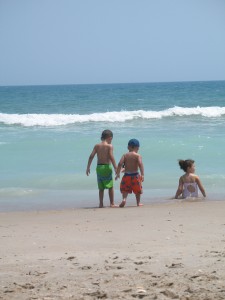 the kids love splashing in the ocean and playing in the sand.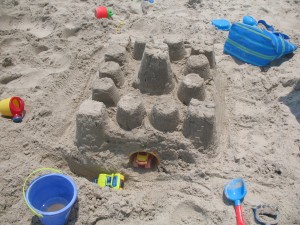 amelia learned how to build sandcastles and takes it very seriously. daddy built this one though. complete with a garage. which is very important for a sandcastle you know.
and also for orville because he loves to make lines with his cars and trucks. i think they are all waiting for a turn in the garage.
orville keeps sunglasses on all the time. we are very thankful for that. otherwise he'd be constantly rubbing sand into his eyes and crying about it. he also cracks us up because he looks like a little old man the way he holds his belly in his suit and sunglasses and hat.
and here's one of my favorite shots so far. i don't know why exactly, but i love taking pictures of josh standing on the beach with the kids. i have a feeling they will be pictures we really treasure once the kids are all grown up.