i like starbucks.  okay, i love starbucks.  i am not a coffee drinker.  i know, tisk, tisk.  but, i do enjoy chai.  and starbucks, of course, has the best.
i tend to frequent their drive-thru's vs. dragging 2 or 3 kids in with me.  last week when going through the drive-thru, wilbur asked, "do they have food in there?"
me-"yes."
wilbur-"what kind?"
me-"well, they have cookies and cakes and breads and bagels and doughnuts.  sometimes they have sandwiches."
wilbur-"how do you get it?"
me-"you order it."
wilbur-"do you have to go in there to get it?"
me-"no, everything they have inside, you can order outside and they will pass it through the window."
wilbur-"oh, okay."
me-"would you like to go in there with me sometime so you can see everything that's in there?"
wilbur-"yes."
so yesterday morning, we did it.  we went into starbucks.  we took amelia to school and had mommy and sons time at the coffee shop.  i brought along some juice for the boys and ordered doughnuts for them and a chai for me.  we picked a table.  they picked their seats, and mine too.  we said a prayer.  they ate.  i drank.  we all enjoyed.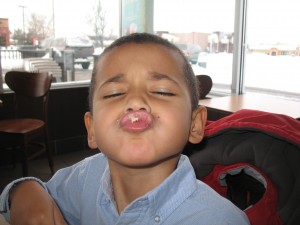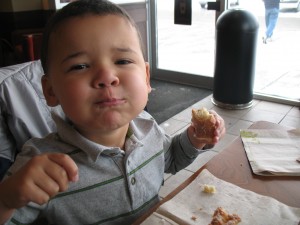 this is wilbur imitating josh's 'one raised eyebrow' face.
oh, and this morning,the boys were playing with their mcdonald's playset.  wilbur had the headset on and i overheard him say, "you'll have a grande chai?  will that be all?"
mmmmmm….starbucks.