there's an 8 year old in my house
amelia turned 8 on the 10th.  i can't believe she's 8 years old.  people always say kids grow up so fast and i am starting to understand that.  it's a very happy/sad kind of thing.
we had a nice day as a family and we had a wonderful evening celebrating with our extended family.
she started the day coloring and even made herself a birthday card.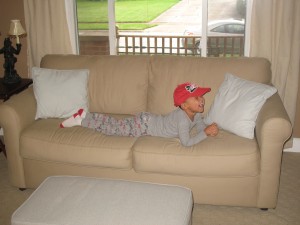 this little munchkin was just relaxing on the couch when i looked up and realized he won't always fit on the couch.  my heart was sad for a few seconds.  i will miss the little him when he's that big!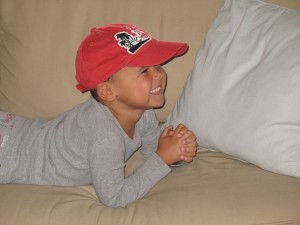 i hope he doesn't outgrow his smile!  oh, those cheeks!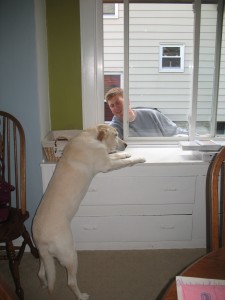 josh was outside cleaning the outside of the dinig room window.  shelby couldn't resist saying hello and getting her head rubbed.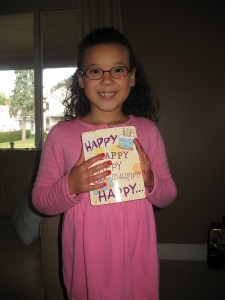 the first card of the day came all the way from columbus.  thank you feathers family!
next amelia opened a scrapbook from josh and i.  she made some pages over the summer and they need a home.  her next project will be making some pages about her 8th birthday with the new stickers that were hiding inside her scrapbook.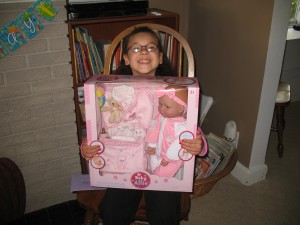 next, a new baby doll!  since this child came home, this is one thing she has consistently asked for.  she brought a baby doll to our house with her, but she has always wanted another one.  we were at sam's club a few weeks ago when she spotted this one.  she was so drawn to it so we decided it was time.  she was so excited to open it.  then she had a mini-photoshoot with it.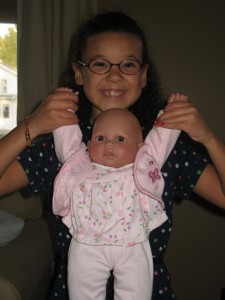 someday, Lord willing, she will be such a good mommy.  especially if she learns from my mistakes.  oh how i pray she does!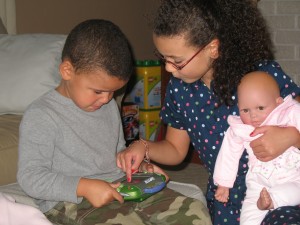 while waiting for everyone to arrive, our little guy couldn't figure out how to do something on the leapster.  instead of asking for help, he burst into tears.  big sis was by his side in seconds to help.  she was so gentle and sweet.  guess she's learning already!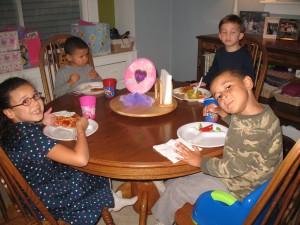 birthday dinner with cousin will.
princess figurines from uncle nate.  so fun!
wilbur running to grab a present for amelia.  he was a bit over excited while everyone was over so josh put him to work being the "birthday santa".
a new Christmas dress from grammy.  oh, she looks so beautiful in it!
just cute!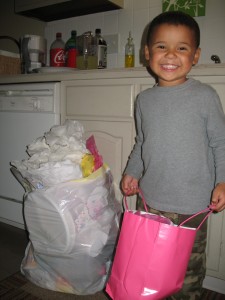 i kept noticing orville picking up the wrapping paper and tissue paper off of the floor, but i didn't think about what he was doing with it.  when i went into the kitchen to get the birthday cake ready, i found this.  he was throwing it all away.  so precious!  he said, "the bag kept falling over and i had to keep standing it up.  it's really full!"
a princess cake for the princess.
a princess pose for the camera.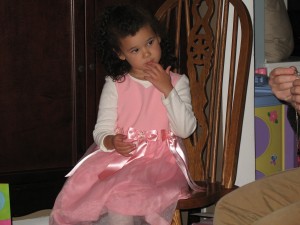 5th birthday~2006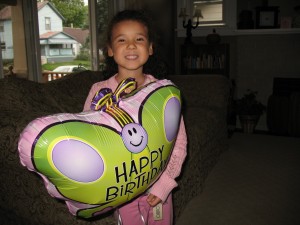 6th birthday~2007
7th birthday~2008
we're even.  she had 4 birthdays without us, now she's had 4 birthdays with us.  we're praying she celebrates at least 90 more!