and welcome to my new home at wordpress. my husband says it's better than blogger, and the good wife i am, i listen to him and allow him to switch me over. haven't learned it all yet, but i'll work on it.
i am torn. half of me can't believe it's been so long since i have blogged. the other half of me can't believe i am blogging now. so much has happened since the last post. the kids have been home for two and a half months now and life has changed immensely.
things have gotten easier. at least most days. there are still moments i wonder what in the world i am doing. but, a majority of the time, things feel pretty normal. the kids seem to be adjusting really well. our daughter really remembers a lot from her past and she brings it up quite often. some people would maybe be bothered by that, but i am grateful. it gives me insight into where she is coming from and what this transition has been like for her.
just yesterday, on our weekly visit to sam's club, she informed us she was going to a meeting. she was pretending of course. after her "meeting", she told us she visited with her dad(biological) and that she told him about us(my husband and i). she said she told him how much we love her and she told him about all the things we get to do. she said he was happy she is with us. we asked her if she was going to meet with her mom(biological) to tell her the same things. she said yes and she thought it would make her mom happy too.
so at the age of four, five in the fall, our daughter can process what it would be like to share about us with her biological parents. and she can process how they might feel about it. wow. goes to show you we have no idea what goes on in their heads unless they tell us. i am so glad she feels comfortable sharing that private stuff with us. i hope that never changes.
potty training with our brand new three year old is in full swing. yep, our middle son turned three last saturday and he's catching on to the whole "squirt your potty into the toilet" thing pretty quickly. pooping on the toilet is a whole other ball game though. any ideas are welcome. ask your friends, ask your parents. he has no interest in "pushing his poopie out into the toilet".
and getting back to turning three, we threw our first birthday bash as parents. the whole time i wondered if i was doing a good job. were we accomidating? did we choose the right food? was everyone having a good time? the verdict came in that everything was great.
we had our families and the kids former foster mom over for a cookout. it ended up raining off and on all day so the food was cooked outside, but eaten inside. 18 people in our house is a lot of people.
our son did a great job calmly opening his gifts and saying thank you for each one. he did have a hard time with blowing out his candle though(only one since we had cupcakes). someday i'll post the video.
we went camping monday and tuesday night with josh's parents. actually, we got rained out tuesday night and had a sleepover at their house. but, the whole trip was very fun and very memorable. first time camping for me since i was a kid. first time ever for our kids. they were quite the troopers, adapting very well to whatever was presented to them. here they are working on the campfire before we actually made a campfire. then, they weren't allowed anywhere near the fire pit.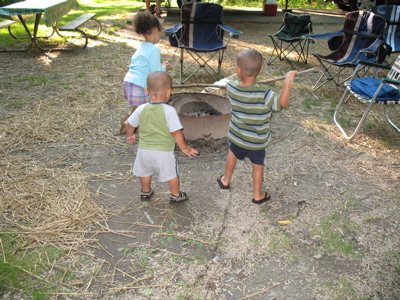 tonight, we ate dinner outside for the first time since we moved in four years ago. i have always been interested in putting in a patio that would hold a pretty table and chairs set. josh has always suggested a picnic table. it hit me today that a picnic table would be a great buy for us. we don't have a patio yet so we don't really have a stable surface to set a table on. and, the kids would be able to climb up on a picnic table bench easier then they would patio chairs.
so this afternoon, josh went to lowe's for a picnic table. $87 later, he unloaded a new beauty into the back yard. our dinner consisted of corn dogs, french fries, grapes, and blueberries. and after dinner we played with bouncy balls and on the swingset. a good time was had by all five of us.
as for my absence from blog world, having three kids severely limits my computer time. as the kids are home longer, i am sure this will change. but, for the time being, i'll have to force myself to stay up later at night to keep in touch with whoever reads this. speaking of which, i'd like to know who you are. feel free to leave a comment when you stop by. that's actually preferred. even if you're family or close friends, it's nice to know you were here.